It's not super-often that we get a couple like Evan and Natalie here in West Texas. Graduates of Penn State, Evan in environmental science and Natalie a specialist in fisheries. You can see that this couple appreciates and values the outdoors.
Evan appeared on the Abilene cycling scene in 2015. With the encouragement of Mike Taylor, with whom he worked at the Texas Commission on Environmental Quality, Evan began to supplement his regular running with bike rides. I remember Mike telling me that Evan was really going to be a good rider. Mike, you are a good spotter of talent! Not only did Evan join the newly-formed Steamboat Cycling Club, it wasn't too long before he had a USAC license and was trying out his skills against the state's fastest racers in events like Lago Vista, Pace Bend and La Primavera, the Davy Crockett Classic and Cedar Bend. In other words, Evan was fulfilling one of the stated goals of Steamboat: to field a competitive team!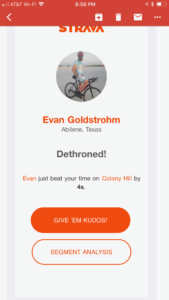 And then there's this: if you've ever had a KOM (King of the Mountain in Strava talk), there is a likelihood that you also would have gotten a notice like the one at left. KOMs didn't last very long with Evan on the prowl. They call it KOM Hunting, and there's nothing Good Will about it (just kidding).
Now lately, Evan's bike has been taking a rest. But it's allowed the Goldstrohms to develop some other skills, such as bass fishing. (Shades of Mike Petty and Shane Williford!)
Evan spent the last few years with a local company in the wind industry, and Natalie has been with Texas Parks and Wildlife. Now Evan will join Guardian Glass in Corsicana, Texas as EHS Manager, and Natalie hopes to find a job in a similar area dealing with wildlife. Lakes are certainly more abundant east of here!
There's another member of the family we haven't mentioned, and that's Abby. She was a rescue dog and is ever-present in their travels.
So to wish Evan and Natalie good fortune in their next stop, everyone is invited to stop by the Grain Theory Brewpub next Wednesday evening, beginning at 6:00, and going until 7 or after. Grain Theory has good food available, or just have a beer or some other beverage.
No doubt there will still be some of those KOMs around for a long time. As proof of that, you might take a look at Evan's racing results here.
–Bill Minter